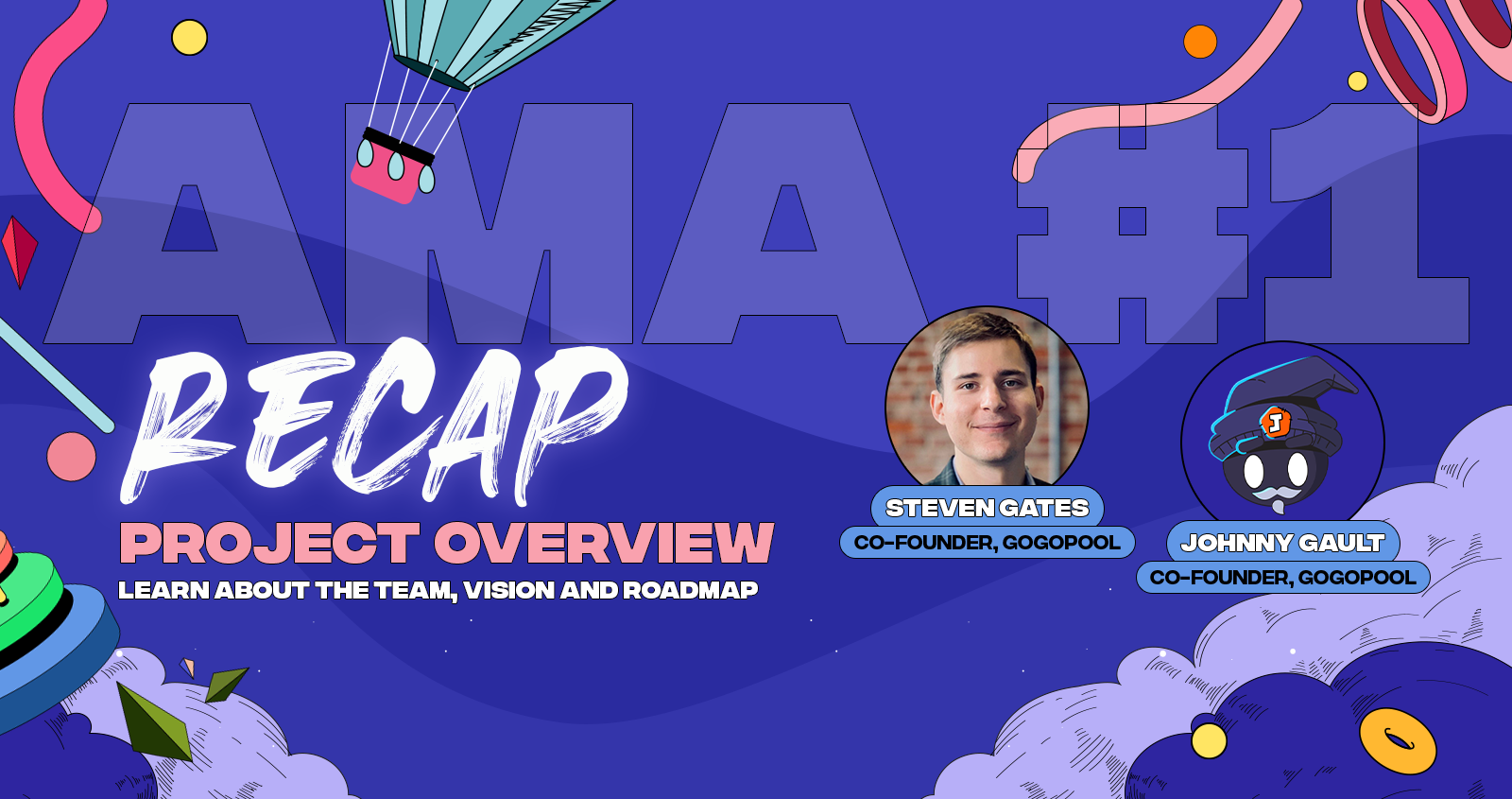 On 4/19/2023 at 2:00 p.m. (PST), an AMA session was held in the Avalaunch Telegram Group with GoGoPool co-founders, Steven Gates and Johnny Gault, to cover the project at a high level. The focus of this AMA is business development, vision, road map, and post-IDO plans.
Below we present to you an excerpt from AMA with questions and answers.
Dave | Avalaunch
Hello and welcome everyone to an AMA with GoGoPool. Today we have founder and CEO extraordinaire @ggp_steven ready to talk subnet, scalability and how his project is ready to take Avalanche to the next level.
How are you doing Steve?
Steve is in dispose and will be here shortly.
Steven Gates | GoGoPool
HELLO!!!!!
Dave | Avalaunch
How are you?, Ready to dive in?
Steven Gates | GoGoPool
Yessssssssssssssssss
Dave | Avalaunch
Where do you want to get started? Perhaps give us a brief intro on yourself.
Steven Gates | GoGoPool
Sure thing !
I'm Steven — cofounder of GoGoPool. Our mission is to help builders bring blockchain technology to the world, by making Subnets easy!
I have been an entrepreneur since University; my cofounder Johnny started programming on the VIC-20. Both of us have operated multiple startups in the past, and have always been interested in crypto. Johnny was probably the first 3000 readers of the BTC whitepaper!
We met before the AVAX Summit 1 last year, and swapped ideas on how we thought the ecosystem could grow.
Then, we met up at the Summit — and the rest is history! On the last day of the Summit, I showed him my prototypes, he showed me his, and that's when we decided to start GoGoPool together in order to help builders bring blockchain to the world through Subnets.
Dave | Avalaunch
Excellent. Thanks. Can you give us the quick description of GoGoPool for our community?
Steven Gates | GoGoPool
Sure — —
GoGoPool is a decentralized and permissionless staking protocol built for Avalanche Subnets, allowing validators to launch for 1000 AVAX via the GGP tokens and liquid staking.
Basically, we make Subnets easy.
Dave | Avalaunch
Good stuff. Let's get right into it — Can you please share the tokenomics of $GGP? When is the token launch scheduled?
Steven Gates | GoGoPool
The token launch is currently scheduled for April 28th, and registration for the IDO is opening on April 17th. Follow our Twitter @GoGoPool_ to keep updated!
The proceeds of this public sale is going towards providing liquidity for the protocol, in order to help it grow in its early stages, and also to bootstrap the initial GoGoPool Foundation so that we can provide grants and governance opportunities to the Avalanche community.
To support sane price discovery, the only day 1 circulating tokens, excluding liquidity, will belong to public sale participants.
Check out the Avalaunch page to read more.
Dave | Avalaunch
Can you tell us about the tokenomics?
Steven Gates | GoGoPool
Validator node operators use $GGP to launch new Avalanche validator nodes for cheaper. A node operator stakes 1000 AVAX and 10% of that in GGP tokens, and gets matched with 1000 AVAX from liquid stakers and launches a new validator node.
Because the operator is staking AVAX and GGP, they earn AVAX and GGP rewards from the protocol (on top of the normal validator rewards they earn). The more GGP you have staked, the more AVAX is staked onto it, and the more AVAX and GGP rewards you earn.
Dave | Avalaunch
What are the details for the $GGP token launch?
Steven Gates | GoGoPool
Do you mean the schedule?
Registration opened yesterday — and are open for a few more days!
Dave | Avalaunch
It closes on the 23rd and I know you have an additional round with validators at a higher price than the IDO — how is that going?
Steven Gates | GoGoPool
It's going well! Partners are very excited, we will be deciding the final composition soon. The round is oversubscribed, so it's really about choosing the right partners. Subnets are a diamond hands play, very different than what the ecosystem is used to right now!
Dave | Avalaunch
That's great to hear. Well done. Validators are some diamond handed folks. Can you say more on the launch in terms of liquidity — I think projects strongly overlook the importance of this. It's one thing to release a token but ideally the market should be a tradable one.
Steven Gates | GoGoPool
Sure — the intent of the public sale is to create deep liquidity on day 1. The plan is to have 500k of liquidity on Trader Joe live moments at TGE, which we think is a strong foundation to build the protocol off of and make it decentralized + permissionless.
Dave | Avalaunch
Agreed. Thanks for this. Wish more projects paid attention.
What do you think are the benefits of Avalanche subnets? Any areas for improvement?
Steven Gates | GoGoPool
Web3 is currently built for thousands of users, not millions. The first generation of blockchains (Ethereum etc) are not built to handle millions of users, and custom blockchains are required for scale.
Subnets are the best way to create a custom blockchain. They allow any developer to launch their custom blockchain for any usecase in a scalable, fast and cheap way. Web3 games especially find Subnets extremely valuable, as they allow their games to run fast and cheap for their users. Large financial institutions see it as a way to upgrade their current software systems (which was built in the early 2000's).
Games are bringing the users, and institutions are bringing the dollars. Subnets are the only infrastructure they can use if they want to scale their blockchain to handle millions of users.
A big improvement will be permissionless Subnets — once you can stake a Subnet's token and become a validator node, any builder will be able to bootstrap their Subnet using GoGoPool and immediately start working with the Avalanche Community.
Dave | Avalaunch
How do ordinary users and node operators benefit from GoGoPool?
Steven Gates | GoGoPool
Node Operators benefit from GoGoPool by being able to launch new validator nodes for only 1000 AVAX, while earning much more rewards than they normally would when running it solo.
Ordinary users benefit by being able to use ggAVAX liquid staking and earn more yield from any AVAX that they currently hold. In the future, I expect that ordinary users will even more yield by using the ggAVAX token to support Subnets, and move liquidity to the Subnet.
Dave | Avalaunch
Let's talk about competitors or similar product — How is GoGoPool different from Lido or any liquid staking product?
Steven Gates | GoGoPool
Sure!
Up until now, people have been thinking about liquid staking only as a DeFi tool.
The current liquid staking products are no different — they are fine protocols, but really cater to the DeFi power user.
We think liquid staking will be much more important than just DeFi — we see liquid staking as an important layer for infrastructure, and as a way for Subnets to start going permissionless.
If you want to help builders bring blockchain to the world with Subnets, use ggAVAX — every AVAX staked goes directly towards helping a new validator launch, which helps Subnets launch faster.
Dave | Avalaunch
Sounds really good- that kind of support and increased inclusion is essential. Tell us about your next steps, partnerships, and exciting features you plan to add in the future.
Steven Gates | GoGoPool
At launch, our requirement for a node is 1000 AVAX so that we can make sure the protocol is operating safely and securely. I expect that requirement to change pretty quickly, depending on community feedback
In parallel, we are focused on helping Subnets launch faster via developer tooling. Stay tuned for more announcements on this.
As for partnerships, stay tuned for the Avalanche Summit!! Will be having some great announcements 🙂
Dave | Avalaunch
Nice caps usage on the DONE. Makes it very clear. Thank you. What difference do you expect GoGoPool to make to the Avalanche ecosystem?
Steven Gates | GoGoPool
I expect us to increase the decentralization and security of the Avalanche ecosystem greatly. Our goal is to increase the number of validator nodes, and ultimately support new Subnets that launch. We want to create the Subnet Economy, and have it be accessible to the ordinary person. Launching this staking protocol is the first step.
Dave | Avalaunch
Before we move on to the community questions, let's do one more. Right now I'm just blown away with your caps usage on DONE and just taking it in. It's great. So…
Avalanche is big business in every way while GGP seems grassroots and accessible to players, large and small. Do you think there are gaps that a project like GoGoPool can fill or is there some ideal target for your business?
Steven Gates | GoGoPool
Helping builders launch Subnets faster is a tough problem, and requires many different skills and capabilities. We think that a diverse ecosystem is a good ecosystem, so that the community can help both big and small projects. One thing we know for sure: all builders are interested in Subnets, and they are looking for partners. It's up to us to help!
Dave | Avalaunch
The increased accessibility to early entrants that may not be large enterprises is important and I'm glad you're here for that.
Steven Gates | GoGoPool
A B S O L U T E L Y
COMMUNITY QUESTIONS
Dave | Avalaunch
Now the community portion of the program…First up comes from the truly irreverent @Capcosmos who asks — How does GoGoPool compare to other staking protocols that have emerged in the Avalanche ecosystem?
Steven Gates | GoGoPool
Ok!!!!!!! I've thought a lot about this, and it's an important question
GoGoPool differentiates in several ways:
Focus on Subnets; Our mission is to help builders bring blockchain to the world through Avalanche Subnets, making it easy for developers to launch and scale their custom blockchains. Other staking protocols focus more on DeFi or general-purpose staking.
Creating a community of node operators: Node operators launch new validators for only 1000 AVAX, and has multiple rewards. This incentives operators to join the protocol, and start coordinating towards helping Subnets launch faster.
Different rewards: Validators on GoGoPool earn rewards in three ways — AVAX staking rewards, a node operator commission, and monthly GGP rewards.
Unlike Lido and Benqi, which are DeFi-focused, GoGoPool sees liquid staking as an essential layer for infrastructure and a way for Subnets to become permissionless.
Dave | Avalaunch
Next up comes from our very own @sunsun77 Could you explain how the minipools in GoGoPool work and how they are matched from the ggAVAX deposit pool to launch as full AVAX validator nodes?
Steven Gates | GoGoPool
Yesss!
When liquid stakers swap AVAX for ggAVAX, the AVAX is held in a smart contract deposit pool.
Node operators bring their own hardware and stake 1000 AVAX and 100 AVAX worth of GGP tokens to register into a minipool queue. Minipools wait to get matched from funds from the deposit pool.
Once funds are matched to the minipool via the deposit pool, the minipool is launched as a full Avalanche validator node.
We have an autocompounder feature which cycles these minipools every 2 weeks, to maximize rewards.
Dave | Avalaunch
Now we have @Algojali a grizzled veteran of the ecosystem who wants to know the following: What specific open-source tooling and services does the GoGoPool DAO plan to provide to Subnet teams to help them design, build, and manage their Subnets more easily and efficiently?
Steven Gates | GoGoPool
Here is the first tool!
https://github.com/multisig-labs/GoGoTools
It is a way for a Subnet-EVM developer to develop and test out their precompiles extremely quickly, with minimal setup.
We'll also have a big announcement at the Avalanche Summit that we'll be sharing about our next bit of tooling 🙂
Dave | Avalaunch
Next up — @AshishPathakn — What are your own plans for building a Subnet and how important do you think that would be for GoGoPool?
Steven Gates | GoGoPool
I think an underexplored area on Avalanche is the idea of "Utility Subnets". These are Subnets that are smaller, maybe have a custom VM, and are tightly focused on providing a function or feature to Subnets. An example of this is an Oracle Subnet — it can provide a Subnet-native version of Chainlink, as right now Subnets can't use Chainlink feeds.
We are very interested in exploring Utility Subnets — stay tuned for more announcements. If you have an idea, DM me !! Looking for partners to collab with on this.
Dave | Avalaunch
Last one is always a softball so here goes — @Heylay3 — What is the story behind the name GoGoPool and how long did it take you to come up with it?
Steven Gates | GoGoPool
Haha this is a funny question .. When starting new projects, I always end up spending a ton of time trying to think of the name.
Like, for several days — it is all I can think about. It got to the point where I would set up codenames, first — and they would always start with "GoGo". For several years I named my projects "GoGo…X"!
So with GoGoPool, I was already working on the original prototypes and investors were scheduling calls with me to learn more.
I was still using the codename everywhere, so I decided to go with it and started explaining the concept as "GoGoPool". The name stuck!
Dave | Avalaunch
Alright. I ask this question all the time and that is best origin story I've heard to date. Well done!
Steven Gates | GoGoPool
Wow really?
Dave | Avalaunch
I'd say so.
Steven Gates | GoGoPool
We should have a community vote about it
Dave | Avalaunch
I don't dole out such compliments too often. It's meaningful and we've done a load of AMAs
Steven Gates | GoGoPool
You know, originally I was going to let people vote on changing the name
Maybe we still should do that!
Dave | Avalaunch
Avalaunch appreciates how vocal and visible you are in the Avalanche Community, and I can attest to your behind the scenes work as well. It's nice to see even Avalabs recognizing you as an authority of sorts of subnets.
Steven Gates | GoGoPool
For sure, it's hard work out there!
Hopefully the talks at the Summit are livestreamed for those at home
But I'll be giving two different talks about Subnets at the Summit!
Dave | Avalaunch
GoGoPool is one of those projects that is needed and you're team is always around the socials injecting life into this growing ecosystem.
Steven Gates | GoGoPool
We are sponsoring the Summit too 🙂
Right next to Avalaunch!
Dave | Avalaunch
Thanks for coming here today and we can continue this on Friday.
Indeed. Look forward to that.
Steven Gates | GoGoPool
Absolutely 🙂 Thank you for the hosting!!
Plus
It is said that he will do a similar job on the Benq platform in the future.
Where do you think this will take you in this business?
Where do you see yourself in the future? Do you have a specific goal in staking 6 million avax benq?
are there already applications or projects for subnets
Steven Gates | GoGoPool
Good questions!!
I think going forward, I view us as a very infrastructure focused team building mission critical software for Subnets.
That will naturally take us down a very different path than DeFi protocols!