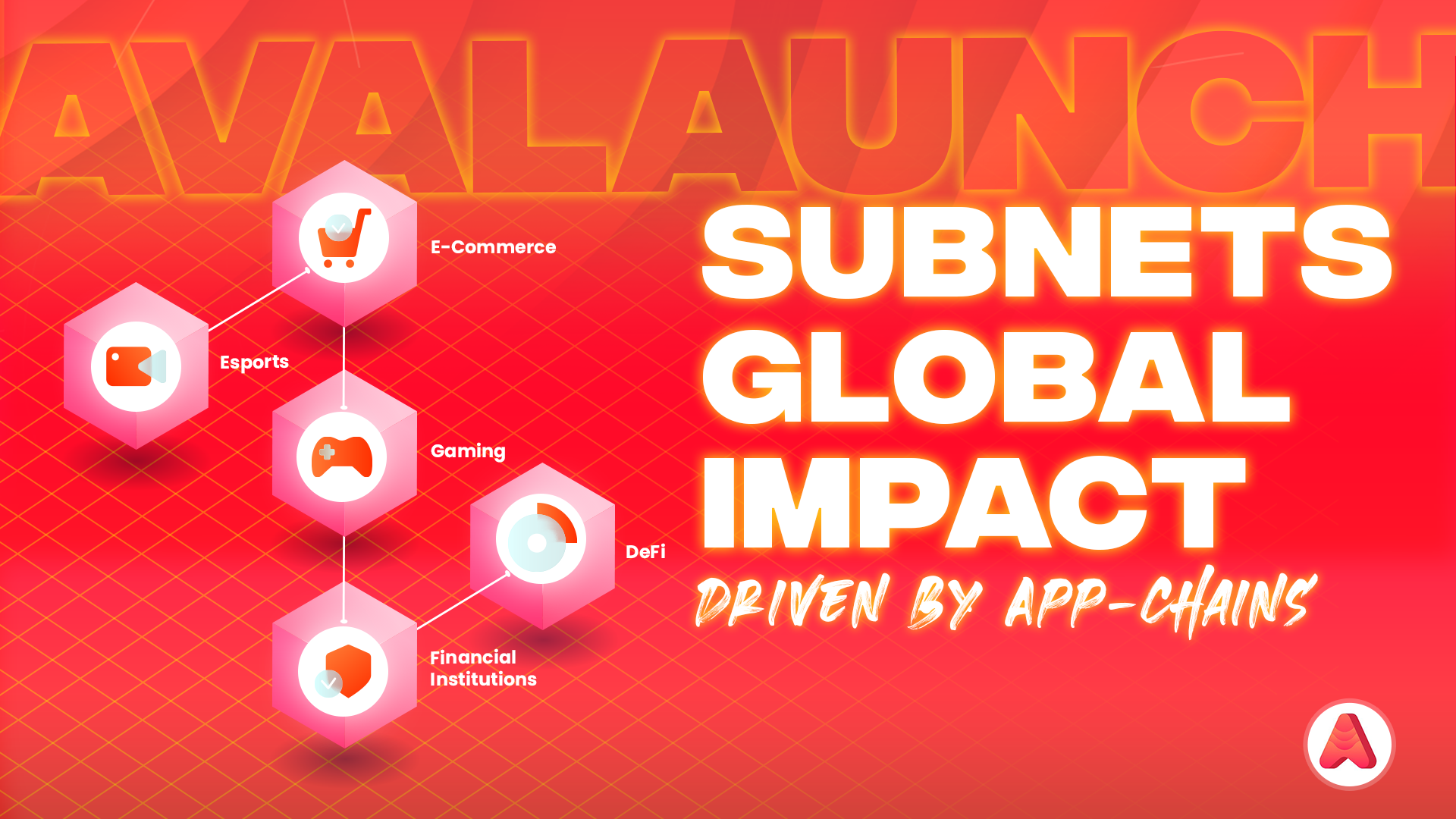 Since the launch of the first Subnet 15 months ago, Avalanche Subnets have seen an extraordinary surge in growth. In this piece, we will be exploring the significance of AppChains and the impact they will have on a global scale, and also map out the development of the Subnet landscape. As we celebrate the remarkable journey so far, we'll also look at how Subnets will supercharge blockchain adoption in the exciting future that lies ahead.
The Rise of AppChains
Blockchain technology has always been about creating a more open infrastructure to empower industries and individuals in a world where transparency is urgently needed. But in order to have a global impact, we need networks that can scale, to absorb the world's assets and bring them on-chain. When we look back at the internet boom of the late 1990s and early 2000s, it's clear that the biggest value accrual was found in the application layer, with the likes of Google, Amazon and Facebook. These applications have shaped the world we live in today and have vastly improved the quality of our lives and are things we largely can't live without. But as the need for decentralized infrastructure becomes more crucial, people are turning to the benefits of Web3 and we are seeing same scenario play out – it is the *applications* that will onboard the next billion users. With a shift in focus to giving users the most seamless experience, developers have realised that they need more freedom in order to achieve this and as a result, we have witnessed a rapid growth in the AppChain landscape – with Avalanche Subnets leading the way.
Avalanche's Subnet Landscape – July 2023
Avalanche has always had one mission – to digitize the world's assets. By bringing these products on-chain, we are not only increasing transparency and improving operational efficiency, we are also seeing the beginnings of consumers gaining access to products and services that up until now, have been out of reach. In the past 15+ months that Subnets have been live, we have seen a gradual acceleration in businesses who are choosing to leverage the power of Avalanche Subnets. With the speed and customizability Subnets offer, gaming studios and financial institutions have so far emerged as the leading adopters. Avalanche is staying true to its mission and leading the way for Web2 companies to embrace the transformative potential of blockchain technology. To truly appreciate the rate of Subnet adoption, let's look at everyone who has chosen to build on Avalanche:
First Movers
DeFi Kingdoms
In March 2022, DeFi Kingdoms was the first project to launch on an Avalanche Subnet, with its Crystalvale expansion. The cross-chain RPG fantasy game also packages gamified DeFi elements, such as staking and liquidity providing, and is powered by its native token – JEWEL. DFK has completed over 500M transactions and currently accounts for around 75% of all Subnet daily transactions.
Crabada
Crabada's NFT crabs took Avalanche gaming by storm and at multiple points, was responsible for over 30% of activity on the C-Chain. Crabada's popularity was a prime example of why games needed their own dedicated environments to give the best experience to players. With the launch of Swimmer Subnet, Crabada was able to provide players with low transaction costs and alleviate congestion on the C-Chain. Although Crabada and Swimmer Network have both since wound down, they served as important lessons in Subnet development. The Crabada NFTs have become open-source for anyone to build upon and explore the possibilities of a decentralized game IP.
Esports
Loco
Loco, the largest Esports platform in India with 55M+ users, is revolutionizing fan experiences through its Legends by Loco Subnet. Positioned as an innovative entertainment hub, Loco is building a suite of Web3 apps that creatively use digital collectibles. These apps will provide new ways for fans to engage with their favourite streamers, enabling a deeper sense of community which will help fuel the industry's evolution. Driven by the exponential growth of online gaming in India, Loco's Subnet will be customized to provide a low-cost and fast experience for millions of users, whilst Avalanche Warp Messaging will allow Loco users to use their collectibles across the wider Avalanche ecosystem.
TSM
Global Esports giant, TSM, will be onboarding 30M+ players to Web3 with the launch of the Blitz Subnet. Powered by Avalanche's Core Wallet, Blitz will be a powerful coaching platform providing performance analytics and tools to help gamers improve their skills. A pioneer in the Esports industry, the Blitz Subnet will play host to Avalanche-branded tournaments in this close partnership. TSM plans to utilize the Elastic Subnet feature to empower the community to actively participate in validating Blitz and play a direct role in driving its growth.
Financial Institutions
Evergreen Subnets
Evergreen is an official suite of tools specifically curated for institutional blockchain deployments, to make it easier for institutions to launch permissioned blockchains that are tailored to meet regulatory requirements. Leveraging the customizability of Subnets, Evergreen will enable financial service providers to explore blockchain-powered features. These include tokenization, composability and operational efficiency, all within a private environment.
Avalanche has also launched Spruce Testnet, which gives institutions the ability to experiment with the power of Subnets without having to put any capital at risk. It also allows partnering institutions to provide feedback – a crucial component to the ongoing development of Subnets and its suite of institutional tools. Spruce's initial cohort of partners includes asset managers – T. Rowe Price, Wisdom Tree and Wellington Management (who cumulatively hold close to $3 Trillion AUM) as well as diversified trading firms – DRW Trading and Cumberland.
With Evergreen and Spruce, Avalanche has the framework to work closely with partners to collectively advance the broader institutional adoption of blockchain technology.
Intain
Intain is the first structured financial service to build an Evergreen Subnet with IntainMARKETS – a marketplace for tokenized asset-backed securities.
IntainMARKETS aggregates all key stakeholders into one platform to streamline digital issuance and investment and thus majorly increasing operational efficiency, which will allow Intain to be more economically sustainable. This enhanced efficiency lowers costs for issuers, unlocking access to a broader investor base with smaller transaction sizes. The blockchain-enabled features offered by Subnets greatly improve the investor experience by providing real-time transparency for every loan backing an investment as well as timely reward collection – two key benefits which were not possible in traditional markets.
It's important to note that IntainMARKETS has US-hosted infrastructure and uses a permissioned design, requiring its validators to be verified US entities and individuals. This is a perfect example of how easily Subnets can be configured to comply with regulatory requirements.
DeFi
Dexalot
Dexalot's Subnet takes Avalanche's speed and ingeniously blends the trading experience of a CEX into a DEX via the use of on-chain central limit order books. Its goal is to provide users with the ability to trade with low fees and ultra-fast time-to-finality, all without compromising on decentralization and transparency. As the first DeFi Subnet, Dexalot brilliantly exemplifies how users can enjoy a superior trading experience whilst maintaining custody of their assets. This represents a significant step in demonstrating the real use cases of DeFi applications.
MELD
The MELD Subnet is revolutionizing the future of finance by combining regulated banking services with the transparency and composability of DeFi. With a vision to create an empowering ecosystem of services, MELD offers users self-custody and access to an array of financial products, including crypto-backed loans and debit cards. By using Avalanche's Subnet architecture, MELD can customize the platform's security features while ensuring seamless interoperability with the broader network.
E-Commerce
SK Planet
SK planet, one of South Korea's leading data management and marketing platforms, has partnered with Avalanche to launch the UPTN Subnet. UPTN will serve as the foundation for South Korea's shift into Web3 e-commerce, impacting millions of users. By integrating UPTN into SK Planet's many services, such as OK CASHBAG – the largest loyalty program in the region, South Korea will be strongly positioned to continue pushing the boundaries in e-commerce and Web3.
Gaming
Avalanche is emerging as the go-to-blockchain for games exploring blockchain features, due to its speed and powerful customizability features. Here are the studios that have chosen Subnets as their engine to build the next generation of gaming:
Merit Circle – Beam
With 60+ partner games, Merit Circle is a leading gaming DAO that will be launching Beam – a Subnet built specifically for game developers and gamers. Its development-focused tooling and products will be instrumental in the gaming evolution. Initially, Beam will be home to 3 new games but the vision extends much further. By providing all the tools and support for game teams, Beam will have the power to grow into a thriving ecosystem where developers can focus on crafting immersive experiences for players. With this focus, Beam is set to be a driving force in the Web3 gaming space by creating a home for anyone who is passionate about gaming.
GREE
Japanese gaming powerhouse, GREE, has chosen to work closely with Avalanche to accelerate blockchain gaming in Japan. Already a pioneer in the traditional gaming industry, GREE has played a significant role in launching mobile games for renowned titles including Naruto and Final Fantasy. With plans to onboard its 30M+ users, GREE will create a vibrant ecosystem of new games through its subsidiary company, BLRD.
Shrapnel
Shrapnel is a highly-anticipated dystopian AAA first-person shooter (FPS) built by an elite team with a wealth of experience in the gaming industry.
Gunzilla
Gunzilla, an independent AAA game studio is launching their GUNZ Subnet, which will be home to their upcoming title: 'Off the Grid' – a Battle Royale 2.0 game. Gunzilla is building gaming-specific tooling to help developers launch in the Web3 space. These services include a marketplace, an NFT minting engine and the GUNZ SDK, all aimed at accelerating the deployment process.
DOS
DOS Labs, a gaming studio with 400K+ daily active players, has launched DOS Chain – a gaming Subnet focused on providing game developers with powerful tooling to make it easier to create Web3-enabled games. DOS Labs has formed an alliance of 11 gaming studios, to advance the widespread incorporation of blockchain technology within the gaming industry.
The first game on DOS Chain will be MetaDOS, a Battle Royale game with a 'time-as-currency' concept.
To cement their position as the leading gaming platform. Avalanche has launched the Arcad3 initiative, of which Avalaunch is a proud partner. Arcad3 is a pioneering program that is focused on accelerating Web3 adoption in the traditional gaming space. By drawing on the expertise of the ecosystem's key players, Arcad3 will play a crucial role in shaping the future of gaming.
AvaCloud – the Future of Subnets
In May 2023, Avalanche announced the launch of AvaCloud, which enables businesses to deploy fully-supported blockchains that easily adheres to regulations and is tailored specifically to their product – all in a matter of minutes. AvaCloud's goal is to empower businesses to embrace blockchain technology by eliminating the need for heavy resources and blockchain expertise.
AvaCloud's product suite has 4 key components:
Automated Blockchain Builder: a no-code portal that allows businesses to launch customized blockchains in minutes, with the support of a dedicated team of experts.
Managed Validators: automated updates and scaling of validators to ensure maximum security and optimal performance.
Comprehensive Data Tools: allows access to a rich data source from across the Avalanche and Ethereum networks to effortlessly power products requiring all types of data.
Chain Interoperability: Avalanche Warp Messaging will allow seamless communication between all Subnets and unlock new possibilities between chains.
AvaCloud is a major milestone in Avalanche's mission to digitize the world's assets. It is set to revolutionize the ways businesses approach blockchain, allowing them to explore new ideas that simply weren't possible before. By leveraging blockchain infrastructure, businesses are democratizing access to their products and building towards a more transparent world.
The Subnet activity from the past year is just a glimpse into what the world looks like on-chain and AvaCloud's arrival signals an imminent gear-shift in Subnet adoption. This is a pivotal moment where entire industries are being reimagined and Avalanche Subnets are central to this transformation. Soon, embracing blockchain infrastructure will no longer be a choice, but a necessity. And with the launch of powerful products such as AvaCloud, the emergence of that future is in sight.