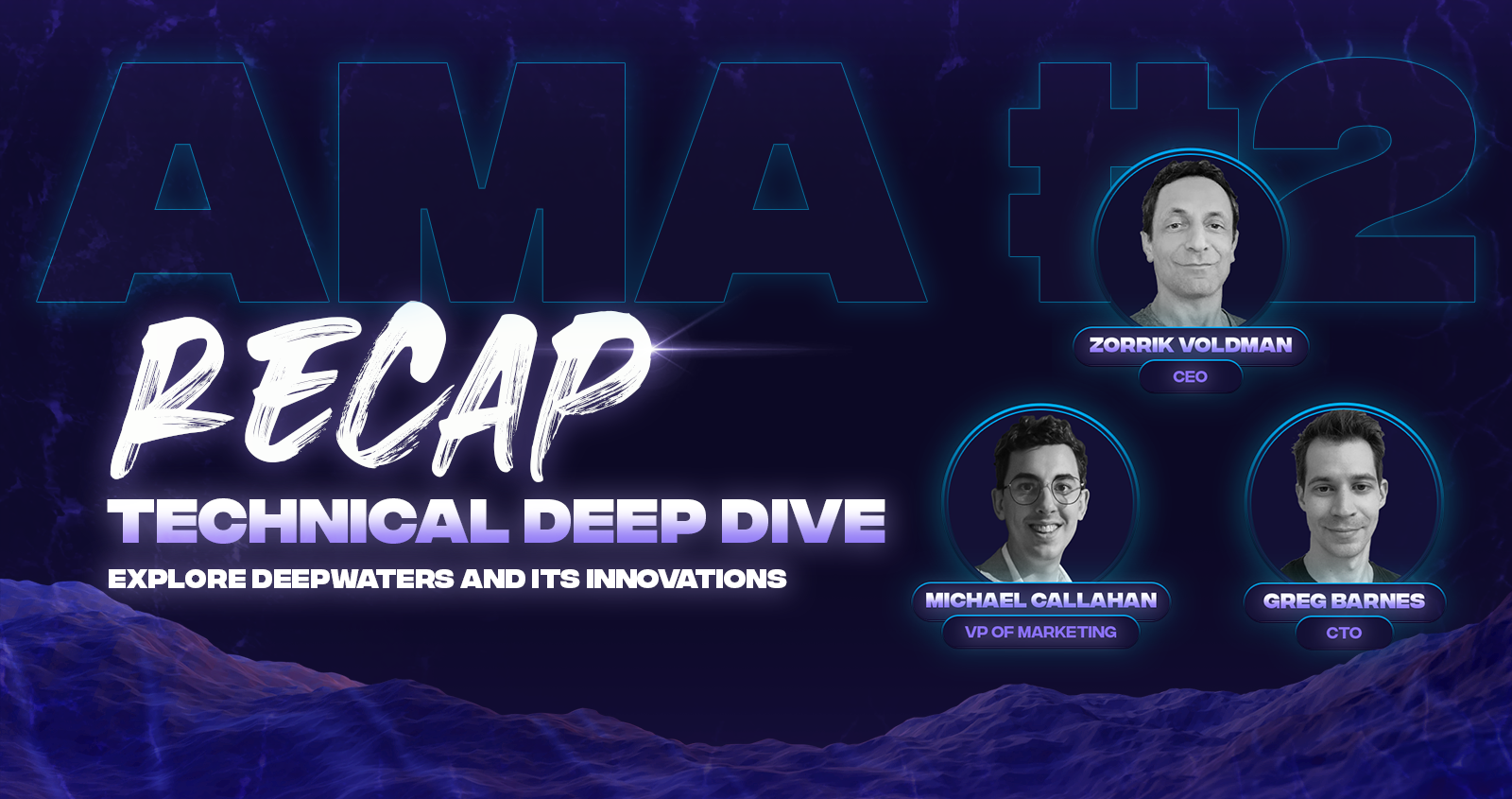 On 02/09/2023 at 6:00 p.m. (PST), an AMA session was held on Avalaunch Telegram with Zorrik Voldman (CEO), Michael Callahan (VP of Marketing), and Greg Barnes (CTO) to cover the technical underpinnings of the project. The focus of this AMA will be the underlying tech development and roadmap.
Below we present to you an excerpt from AMA with questions and answers.
Dave | Avalaunch
Hello again Avalaunch Community and welcome to the sequel AMA with Deepwaters. In part II we will be doing more of a technical deep dive on the project and bringing us some no joke Deepwaters excellence are @zscape0 CEO and Architect, CTO extraordinaire @gregkbarnes and their Market Director, the venerable @mscallahan . Thank you for joining us. How are you all doing today?
And, for an additional cameo we will have their Chief of Staff, @CarltonHoyt
Greg | Deepwaters
Excited to be here and generally not sleeping: getting ever so close to our launch.
Dave | Avalaunch
Can you please tell us a little bit about yourself? Where were you before you started working on Deepwaters?
Greg | Deepwaters
We definitely have a diverse set of backgrounds:
For me: I actually discovered Bitcoin in a past life, when I played poker professionally. From there, it led me into starting a mining operation in Washington State (cheap hydro power) and then into Ethereum, defi and beyond.
Zorrik | Deepwaters
Deepwaters actually pulled me out of early retirement. I was in Kauai , surfing and dreaming of the next best thing, when the idea hit me.
Carlton | Deepwaters
Mid 2021? Deep in covid quarantine.
Jokes aside, I have a background in life science marketing and once upon a time I got a PhD in neuroscience.
Dave | Avalaunch
I have mixed feelings about you leaving that set up but I'm glad you did nonetheless.
Well you put your grey matter to good use. Cheers.
Zorrik | Deepwaters
In past life I started a few fintech companies, sold some to public companies, ran a hedge fund as a quant and created a military communication system that a few countries around the world are using
Dave | Avalaunch
This is a well qualified group to be sure.
Considering the collapse of FTX and how the narrative is to keep away from custodial parties, how does Deepwaters as a hybrid architecture of finance and blockchain position itself as a cryptocurrency exchange, one in which customers can trust and use?
Zorrik | Deepwaters
Couldn't be happier. This is the most exciting project I have ever worked on.
Simply put, we are a marketplace whose priority #1 is to remove any potential of privileged operations from all parties, including Deepwaters. Beyond custody, and equally important, is order flow protection, which is our main thesis.
Dave | Avalaunch
Excellent. Thank you for that. What are some of the strategies that Deepwater will use to stay above this competitive environment, particularly what options will you provide for onboarding the first wave of users and ensuring their retention?
Zorrik | Deepwaters
What has proven effective so far is staying true to our mission. You would be surprised how many very profitable ways there are to dilute the uncompromising stand on custody and orderflow. If we continue to demonstrate a competitive market place, we will remain competitive. The direct measures we are taking are not unlike the strategy that PayPal employed: reward participation and referral of new participating clients.
Carlton | Deepwaters
We also just announced a really cool promo where everyone who signs up by the end of the day on our launch day (the 14th) gets max VIP tier for one year.
Dave | Avalaunch
Can you explain in more detail how Deepwaters aims to circumvent the impermanent loss (IL) problem ubiquitous to the LP mechanism?
Greg | Deepwaters
Deepwaters is a pure order book. As such it does not have an Automatic Market Maker based LP mechanism. However, we are looking at allowing clients to participate in the liquidity provision and profit sharing through market makers that are going to be trading on Deepwaters. The big difference here is instead of naive buy high and sell low implementation of AMM LP, your money is being used by an intelligent and experienced market maker.
Note, MMs do not have privileged rights or access on Deepwaters but they are protected from the exchange trading against them. Potentially, this will have a positive effect on ultimate profitability.
Dave | Avalaunch
That's smart and has been notably problematic in crypto.
Greg | Deepwaters
Not for long 😉
Dave | Avalaunch
Amen.
Greg | Deepwaters
Building an exchange the RIGHT way should be simple. Focus on transparency, fairness for all players, and make it provable!
Dave | Avalaunch
Simple is not always easy so kudos to you. Which legislation will Deepwaters be operating under? Any counties that will be excluded from accessing the platform? Do you envision any difficulties in expanding the services to other countries?
Carlton | Deepwaters
Deepwaters is operating under the laws of the Czech Republic, and therefore also the European Union. We'll have to exclude countries with broad financial sanctions:
• Cuba, some occupied parts of Ukraine, Iran, Afghanistan, Russia, Syria, and North Korea.
We're also excluding some non-EU jurisdictions with very well-defined regulatory regimes:
• United States, Canada, United Kingdom, Switzerland, United Arab Emirates, Singapore, Japan, Australia.
Greg | Deepwaters
All of those we plan to get licensure for, in time. Doing things the 'right way' and remaining compliant take time and resources. We are devoted to this cause.
Dave | Avalaunch
Well let's hope the governing bodies can stay out of the way of progress.
How will the initial liquidity be provided, will there be looping in of liquidity from other CEXs and DEXs?
Zorrik | Deepwaters
The initial liquidity will be provided by the market makers, which is a superior way to create liquidity with the best spread and depth. We are working with aggregators for backstop, as well.
Dave | Avalaunch
Who will be your KYC/AML provider, and how much customer data will you store and for how long? Do you have your own server for data storage, and who will have access to this data?
Carlton | Deepwaters
We're working with Fractal for KYC/AML. We are required to keep records safely on EU servers, since we're based there. Access is limited to personnel with a need to be able to access it for compliance or technical purposes.
Dave | Avalaunch
Will Deepwaters be accepting fiat? If so, which currencies do you expect to be supporting and what system will you be using for providing this?
Greg | Deepwaters
Soon! Day one, crypto only. But we will integrate fiat rails and make announcements around supported currencies in the near future. We're not 100% certain what provider we'll be using for fiat rails, but we're currently leaning towards BCB.
Carlton | Deepwaters
FYI, BCB is a super crpyto-friendly bank in the UK.
Dave | Avalaunch
Let's hope it stays that way. 😁
What's the hierarchical structure for users to gain access to the platform? What are the main functions non-KYC'ed vs a KYC'ed users will be able to access?
Zorrik | Deepwaters
Only KYC'd users can trade. Users, who go through source of funds declaration will have much higher deposit and withdrawal limits, but it won't be required.
Dave | Avalaunch
What security measures does Deepwaters have in place? Will there be proof of reserve available? What about 2FA?
Greg | Deepwaters
That's a good question and something we're particularly proud of.
Deepwaters Beta uses EIP-712-based transaction signing. We require you to sign actions (trades, withdrawals, etc.) with your private key using your favorite web3 wallet. Customer funds are trackable in Deepwaters' PositionManager smart contracts.
In the coming months we will be expanding our offering and integration with best-in-class custodians (Fireblocks and Qredo).
Dave | Avalaunch
That's a good answer. You're on top of this stuff and are looking ahead which is particularly important in the current landscape.
How will withdrawals work? Do you have wallet whitelisting functionality?
Greg | Deepwaters
That's correct.
In Beta, withdrawals work by using your own wallet signature and broadcasting the tx on-chain yourself.
Carlton | Deepwaters
Your wallet is your remote control for your funds on Deepwaters!
Dave | Avalaunch
That definitely works.
Can you tell us more about the structure of the different wallets and deposit options? How do you ensure that customer funds/deposits are not commingled with company funds? Will there be any transparency in this regard?
Greg | Deepwaters
The PositionManager that we mentioned before leaves a on-chain trail of all deposits and withdrawals.
The best way to deal with this is transparency combined with legal structures and auditing that provide oversight.
Our PositionManager smart contracts hold strictly customer assets and are responsible for deposits, withdrawals, and settlement between customers.
We've got big plans around auditing and transparency (the sexiest topic). This starts with 3rd party audits and extends to including Deepwaters validators in on the auditing process.
Dave | Avalaunch
Nothing sexier than a good audit.
Zorrik | Deepwaters
Maybe slow audit
Dave | Avalaunch
And a final question before we move on to the Twitter/Community portion of the program — Are there any other points you'd like to tell us more about to better understand the platform?
Carlton | Deepwaters
If you look at almost all of the big implosions in crypto in 2022, they weren't because of external bad actors or hacks. They were essentially inside jobs. The operators of the platforms were doing things they shouldn't have. You can easily create a set of rules which would prevent any and all of those things, while making trading more fair to everyone at the same time. You can solve all these problems with technology, and that is precisely what we are aiming to do.
Join us on our mission, everyone! We welcome you to sign up at https://app.deepwaters.xyz/
Things only change if you vote with your wallet (so to speak).
Dave | Avalaunch
Absolutely. A decentralized protocol is most vulnerable to its own creators. Well said.
Good link to check out.
Community Questions
Dave | Avalaunch
So first up from our community is a virtual assasin. @bookieassassin asks — If I want to participate in governance, is it the WTR token or the ZRB token I need to hold?
Carlton | Deepwaters
WTR. ZRB will act like an ETF. It's a really cool product but it won't be ready for a while.
Dave | Avalaunch
Understood. Next up comes from @AguedaShank1998 — Who are the ideal target users for Deepwaters?
Carlton | Deepwaters
Are we allowed to say everyone?
Dave | Avalaunch
You have clearance from the FCC on this, yes.
Zorrik | Deepwaters
Anyone who cares about the best price discovery and execution. And yes, that would include market makers who once in a while have to go flat on their risk.
This includes: retail traders, quants (who would love viable market orders, 100% price improvement and low adverse selection) and institutionals.
Dave | Avalaunch
Good looking out for retail traders. They've been through enough.
A common question that gets asked. @spanser77 During the creation of your project, do you consider community feedback or requests to further expand new ideas for the project?
Greg | Deepwaters
1,000% — Yes. We have gotten great feedback and support from our time in testnet. We look forward to listening and learning from our community.
Michael | Deepwaters
300k+
Carlton | Deepwaters
King of context right here.
Dave | Avalaunch
and you have a massive community that can attest to this. Prop.
Zorrik | Deepwaters
Michael is a spartan. He is very laconic
Dave | Avalaunch
Exhibit A
but never reticent
Zorrik | Deepwaters
This is DEEPWATERS!
Dave | Avalaunch
Perfect. I'll quit while you're ahead.
Carlton | Deepwaters
The 300k number is how many feedback responses we got on our testnet. So yeah, we're listening! Thanks to anyone who gave us feedback.
Dave | Avalaunch
@AvelinaPatrick99 How is the DEX aggregator implemented by Deepwaters different from other DEX aggregators that can be found in the DeFi space?
Zorrik | Deepwaters
We are a classic order book, quite far from a DEX aggregator which aggregates inferior price discovery of DEXs. The advantage of such an order book is superior speed, cost, price discovery and settlement. Of course DEXs have their specific use cases, just like order books.
Dave | Avalaunch
@Chunwab After all bad scheme and action by Celcius, now FTX, what are Deepwaters strategy to convince your user that Deepwaters is safe and worth it for investment?
Greg | Deepwaters
The trick is not to *ask* our customers to trust us. We're building a system where users can prove that we are doing what we say we're doing.
You have to take away the centralized points of control and corruption!
no more walled gardens*
Dave | Avalaunch
This makes a world of sense. Walled gardens be gone! This is Deepwaters!
@AvaxPredat0r — I see lots of engagement on Deepwaters tweets–where did you build your community and what brought you to Avalanche?
Greg | Deepwaters
We're very excited about the future of Avalanche: particularly around their app-chain approach with subnets.
We also have mutual interest in confidential computing (building on Intel SGX). Avalanche actually has recently migrated their bridge a TEE-enabled solution.
Michael | Deepwaters
We've tried to build our community by creating ways for community members to contribute, and rewarding them for doing so. Creating content, referring friends, proving feedback on the testnet, etc. Our community can gain rewards by doing whatever they do best.
We want our community to feel like deepwaters is their project too, because it very much is
Dave | Avalaunch
Keeping in line with this — @Kangjian2 — Are you planning to promote Deepwaters project in countries / regions where English is not good?
Michael | Deepwaters
Absolutely! We're going to be prioritizing additional languages on the platform in the weeks and months after launch
Zorrik | Deepwaters
By the way We have 28 language groups on Discord and we have employed the best of our community members
Dave | Avalaunch
You already have a ton of communities in your Discord. Do you know offhand how many regions/countries?
That was my follow up. Nice.
@OptimusPrime_SV — You mention that you have flexible strategies for traders of any level; can you tell us about your plans for new traders?
Zorrik | Deepwaters
Deepwaters brings back viability to market orders (they just land on the public order book and take a bite out of it, before anyone can react to them), Also, mispriced limit orders get automatic 100% price improvement. Because of this , Deepwaters is very noob friendly.
Dave | Avalaunch
That's sincerely good to hear.
People onboarding get into a world of trouble navigating the space so anything noob friendly is super welcome.
Zorrik | Deepwaters
For anyone who is used to RFQ type orders, graduating to market orders and then limit orders is going to be organic. Both will result in superior execution.
Dave | Avalaunch
Another question that gets asked so often I can't help but include it on occasion — @Sanchezz91 — will Deepwaters accommodate a BuyBack/Token burn mechanism after the token sale or in the near future?
Carlton | Deepwaters
We can't because it would make it a security. I'm not even allowed to speculate on anything that would give an impression that we are trying to impact the price of the token. The SEC is really strict about these kinds of things and ultimately we'll need to obtain US licensure.
Zorrik | Deepwaters
We are looking forward to coming back to US as an SEC registered exchange. We are being very careful with compliance.
Dave | Avalaunch
Understood. You all have fared admirably and our final question is upon us.
@Abdul_Rahim07 — Since it's a zero gas fee exchange, How do you generate revenue? Do you have enough funds to run your project? 🔥
Greg | Deepwaters
Deepwaters charges trading fees. Also, when we launch leveraged trading later this year (hint, hint)… there will also be a funding rate.
I also want to take a moment to call our a great promotion that we're running leading up to our launch:
Register and begin the KYC process by 23:59 UTC on Feb 14 and lock yourself in to the HIGHEST VIP TIER for both maker and taker fees for 12 months!
One last thing… 🙂
We're very excited to get the chance to work with Avalaunch and you all, the community. We want to thank the team for all of their support and advisement.
We're happy to offer our WTR token for this sale at $0.12 and allow it to be redeemed at $0.70 on our platform.
Thanks for being our early advocates ❤️
Dave | Avalaunch
I'd like to thank you all for being here. It's refreshing to see such an accomplished team so committed to community and willing to keep an "ear to the street." Avalaunch believes this matters greatly and will come to define the space as we move forward in the face of regulators and continued scrutiny. Something very special is being built and you all represent important builders in directing the path ahead.