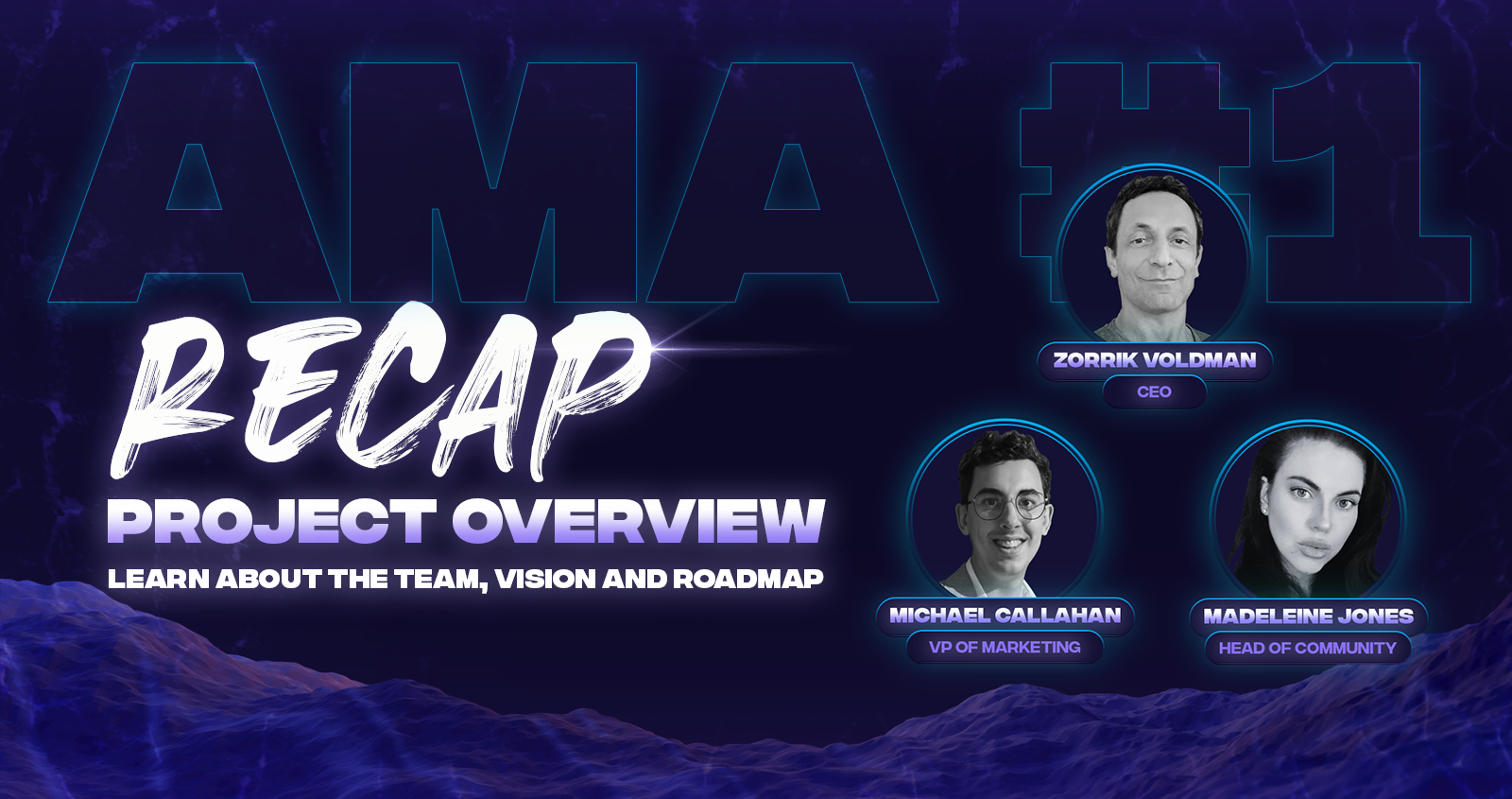 On 02/07/2023 at 6:00 p.m. (PST), an AMA session was held on Avalaunch Telegram with Zorrik Voldman (CEO), Michael Callahan (VP of Marketing), and Madeleine Jones (Head of Community) to cover the project at a high level. The focus of this AMA was business development, vision, road map, and post-IDO plans.
Below we present to you an excerpt from AMA with questions and answers.
Dave | Avalaunch
Hello and welcome everyone to the first AMA of this New Year. Today we are fortunate enough to have some revered guests who come to us all way from Deepwaters, our upcoming IDO. This is the first of two AMAs so to kick things off we have @mscallahan, VP of Marketing and @madeleineth their Head of Community. Given the traction and numbers Deepwaters has garnered through testnet and prior to launch, it's safe to say they've been busy. Thank you for joining us here today. Our guests will be making their way here to us.
@madeleineth and @mscallahan how are you doing today?
Madeleine | Deepwaters
Hey super happy to be here!
Dave | Avalaunch
Glad to hear it. Once again, thanks for joining us today.
Michael | Deepwaters
Hey, great to be here and super excited to talk to your community!
Dave | Avalaunch
Let's get into then — Please take a few minutes to introduce yourself, who you are, what your relevant experience is and how you ended up in Deepwaters?
Madeleine | Deepwaters
Well I am I am the head of community for Deepwaters, I had a number of community management roles prior to being hired and building out the community and social media side of things
Michael | Deepwaters
Well, I'm Michael Callahan, VP of Marketing here at Deepwaters. I actually started my career as an engineer (my team likes me to say I worked for NASA and the JPL, so I'm the official deepwaters rocket scientist :p). Got into data science after my degree, which eventually led me to Product Marketing. Been in the industry for abt 6–7yrs, and worked all around for companies like OKX, the Transform Group, and OpenZeppelin/Forta. DW needed someone with technical marketing experience, focused on transparency and consumer blockchain, so here I am
Dave | Avalaunch
Super important part of crypto and one of the most challenging to say the least. Welcome
Good having you and sporting a sound resume. Moving on as we have a lot to get through — Please give us an overview of Deepwaters with particular emphasis on what it is and what problems it aims to address?
Michael | Deepwaters
Madeleine has been an absolutely rockstar, and at the risk of even MORE people trying to poach her, she's underselling herself as our secret weapon.
Madeleine | Deepwaters
haha thank you Michael
Dave | Avalaunch
Avalaunch will do its best to refrain 😁
Please give us an overview of Deepwaters with particular emphasis on what it is and what problems it aims to address?
Michael | Deepwaters
I'm going to give an abridged version of what some of you may have seen in our literature…
At the highest level, Deepwaters has built the most fair and transparent exchange in history, providing protected order flow, secure custody, and provable market integrity.
We use a hybrid approach that brings together what we believe to be the best of both CeFi and Defi. We are fast, compliant, and trustless. Our technology makes it literally impossible to engage in the kind of fraud/trade manipulation/corruption that brought down FTX/Celsius/Voyager/3AC/etc. and ANYONE on our platform can prove it — you don't need to trust us, we give you all the tools to see EXACTLY how are trades are executed and assets are managed.
Dave | Avalaunch
Understoood and thanks for that. Makes a world of sense given the recent events and troubles with CeFi that makes crypto on the whole look bad when it's still centralized authorities.
How long did it take the team to produce the testnet, and were there any outstanding challenges you faced along the way? How did you overcome them?
Michael | Deepwaters
We were building in (semi) stealth for around a year and a half before we entered testnet this past September. I'm not sure if we have enough time here to talk about all the challenges we faced, or if I'm the right person to discuss them on the product/engineering side haha.
One major challenge was that we began by developing a decentralized exchange, but kept running into compliance/assurance/speed/security issues that we were unable to provide solutions for in the 'traditional' DEX format. We pivoted to the model we have now about 9 months ago, and it's been up and up ever since.
From a legal perspective, we're a centralized exchange. However, our founding ethos and everyone on our team is focused on transparency and the ethos of DeFi — not having to rely on any kind of centralized custodian. So we've built a technology that brings that kind of trustlessness, transparency, and accountability to a 'centralized' architecture by a combination of blockchain and Trusted Execution Environment technologies.
Dave | Avalaunch
Again, appreciate the comprehensive answer and best of all, it makes a world of sense.
What are the key factors that in your opinion differentiates Deepwaters from the rest of the competition? What makes the platform unique that users will enjoy using instead of the leading providers in the space such as Binance?
Michael | Deepwaters
I'll give this one a shot, but would love madeleine to talk a bit about how we differentiate w the community as well.
Dave | Avalaunch
That is worth noting. The traction you all got was super impressive so let's amend that to focus on the community.
Madeleine | Deepwaters
Existing exchanges have been designed to take advantage of trades and exploit the ignorance of traders. These exchanges do everything to ensure that they themselves, and their privileged friends, profit first and most. Traders, on the other hand, are the last to benefit from their own trades. We have flipped that script, and our community knows that and I feel like that was a huge part of our organic growth
Dave | Avalaunch
AMEN!
Michael | Deepwaters
Retail traders are starting to gain a lot more understanding about how they, as traders, are the LAST to make money on their trades. Every time you see something like "Zero Fee Trading" (and no, I'm not going to call out the exchange you're thinking of by name :p ), you can bet that you're losing a lot more than you would be on fees. PFOF, internal netting, and adverse selection are quite honestly standard practice across almost all exchanges, and we can confidently say we are the most fair and honest exchange out there — as these things are literally impossible on deepwaters.
All the big exchanges spend a TON trying to convince you that they should be trusted. For me, my favorite differentiating factor is our ability to say: you SHOULDN'T trust exchanges (including us!). We give you the ability to see exactly how our trades are executed and assets are managed. Our trading rules and orderbook are public to everyone. Why should you believe a neighbor who builds walls around their garden? We differentiate by building a foundation of windows.
Dave | Avalaunch
I think you're launching at an important time.
Let's give you something a little easier but relevant. As a project voyeur, I have a question that users often inquire about — What does a typical day look like at DeepWaters, and how big is the team behind the platform?
Michael | Deepwaters
ftr, We didn't have anything to do w the timing of FTX… but we do certainly appreciate it.
Dave | Avalaunch
I'm fairly certain that Madeleine lives in a few time zones. 😁
Madeleine | Deepwaters
Well my day is probably a little different because I am on the other side of the world to everyone else so I do have some pretty wild meeting times. but I do believe we are now 16 full time employees. Which is wild for me as I joined as #5
Michael | Deepwaters
At the moment, we have a full-time team of 16. I can probably best speak for the marketing side, so a typical day involves a lot of conversations with partners, investors, and market makers (a lot of convincing people that transparency, fairness, and honesty are ACTUALLY better ways to make money than exploitation — especially as traders become more informed). We also place a huge emphasis on giving people in our community ways to work WITH us, contribute to the success of the project, and be duly rewarded/appreciated for their efforts. We would have no where near the success that we have if not for the unbelievable work of our community.
Madeleine | Deepwaters
Sorry its 17 now!
Dave | Avalaunch
Ever growing
Here's something for the both of you so I'll leave it open ended as possible — Can you give us a rundown of some of your marketing/community strategies you may have planned for launch and beyond?
Madeleine | Deepwaters
So you want me to give up the secret herbs and spices??
Dave | Avalaunch
Maybe you can show us the dish but keep the recipe?
Michael | Deepwaters
FYI, she's Australian so y'all should know she pronounces the 'H' in "herbs"… as an American, I believe this is a sin.
Dave | Avalaunch
I hear it now
Madeleine | Deepwaters
We have a fair few big surprises coming to reward our community for helping us get to where we are. We have been so incredibly lucky to have fostered the community we have and its only right that they get to come along for the ride with us. We did tease a little about what will happen with our social token on twitter but the full surprise will be revealed very soon!
Michael | Deepwaters
As I mentioned above, a big part of our overarching strategy is to give our community incentives and opportunity to work WITH us. We're not just looking for fans, we believe that 90k people on discord will almost always be smarter than any single one of us, so we take their input and help extremely seriously. We have programs for testnet feedback, content creation, bug bounties, translation, referrals, token listing introductions, etc. etc., and we work hard to reward/recognize the users that help the most. We want our community members to feel like this is THEIR project too, because it is.
Dave | Avalaunch
Thank you for that
And one of the surprises is the presence of @zscape0 Welcome. Zorrik is the Founder and CEO of Deepwaters so maybe I can follow on that look ahead by asking- What insights can you give us about the platform's V2 planned for Q3-Q4 of this year?
Which is not to preclude Michael or Madeleine from weighing in but I thought the cameo deserves acknowledgement.
Zorrik | Deepwaters
First of all, we will be looking at introducing leverage
Of course we are also looking at listing several projects. The list is being vetted at the moment.
Following up, derivatives.
Dave | Avalaunch
This is exciting to be sure.
Michael | Deepwaters
Well, we're considering our launch on Feb 14h to be a Beta Launch, as we're going to be rolling out and expanding a lot more features over the coming weeks and months. Many of our transparency/accountability-focused features will be available on launch, but some, including remote attestation to the trade execution (so users can prove that our trade rules are functioning as shown on LIVE trading) will be rolled out around Q2.
Dave | Avalaunch
It's a pretty packed roadmap.
Zorrik | Deepwaters
One of the options under consideration is options. Options have not been very popular with the crypto community but we believe that they are an essential investment vehicle, although in many cases leveraged perps have replaced them.
Dave | Avalaunch
That's a good point. People need to straddle but to date, they haven't caught on.
Michael | Deepwaters
We're also going to be instituting some temporary safeguards on launch, to protect our users while we get our feet under us. These include:
Maximum deposit size of $100000/day and $500000/month
Kaximum withdrawal size of $100000/day and $500000/month
Limited trading pairs: we are starting with the five trading pairs included in our testnet along with WTR-USDC. We plan to add more in the months to follow
Dave | Avalaunch
The adding of assets is going to bring community interest from the prospective projects as well.
Zorrik | Deepwaters
In effect, options is one of the most interesting and obvious application of Deepwaters tech. If you think about what ails the option most… thin markets allow order privileges to distort pricing. Deepwaters order protection will make options more viable, just like it makes market orders more viable.
Dave | Avalaunch
As a multichain project, which others are planned to be supported by the platform, and what's the timeframe for this? How did you decide for Avalanche to be one of the first chains to be supported by the platform?
Zorrik | Deepwaters
We are laser focused on our mission and for our beta we intentionally restricted ourselves to EVM compatible chains, to speed up the GTM and eliminate variables. You can guess the first addition, of course: BTC.
Dave | Avalaunch
I believe Avax holds more BTC (BTC.b) than the lightning network. Shoutout to Avalanche. Let's take the training wheels off this AMA and just let you all share. Michael I know you have something coming.
Zorrik | Deepwaters
One of the important v2 shifts is moving custody to third parties. We are currently working with Qredo and Fireblocks for that, both leaders in custody solutions for crypto.
Whatever they support today will be the initial restriction on the listed assets but we are working with them to expand that. AVAX invested in us via Blizzard fund, so we of course list them as one of the first.
We are very excited to be working with them.
Dave | Avalaunch
I hope you'd consider a subnet looking ahead. Horizontal scaling.
Michael | Deepwaters
Actually, if I may, I will use this opportunity to pose an ask to the Avalaunch community:
We want to become known as the safest, fairest, and most reliable exchange for the tokens with the most real utility. If you have an upcoming or recently launched project or token in mind that you would like to see listed on Deepwaters, we'd love to hear from you! We provide pretty generous rewards for intros to great tokens/projects, and we're willing to discount or even list those projects for free, given appropriate conditions.
Dave | Avalaunch
I'll repost this after the AMA and you will see agendas come to life. I would think they'll say XAVA for sure.
Community Questions
@Oriap4 — How long do you expect the main building phase to last in order for Deepwaters to achieve the team's vision?
Michael | Deepwaters
All the features on our public roadmap will be rolled-out by Q3/Q4 2023. (this is the plan, anyway :D)
Zorrik | Deepwaters
Depends how you define our "vision"…. we have some surprises planned beyond what you see on the roadmap. The long term goals are very ambitious but as I said we are laser focused on the core.
Dave | Avalaunch
If you want to tease a surprise, you'll get no complaints
Zorrik | Deepwaters
Our goal is for Deepwaters to keep growing and evolving for many many years to come. I am excited to have you all with us on this journey.
Dave | Avalaunch
Not quite an "alpha Leak" but appreciated nonetheless.
Moving on…the intrepid @NilsaTellez50 asks — What do you feel is your biggest challenge is in gaining adoption?
Zorrik | Deepwaters
I would say, at this point it is education. Prior to FTX many considered us conspiracy theorists. The sentiment of "it does not happen, because it is illegal" or "it happens in tradfi but crypto is different" used to be prevalent.
Michael | Deepwaters
Madeleine can prob answer this as well, but one is certainly going to be token listing as mentioned above. We have a pretty involved due-diligence process and are going to do our best to ensure no one gets rugged or scammed by a token listed on DW, but this process also means we can't just list anyone and everyone. This is one area where we're going to be HEAVILY leaning on our community to help us identify and vet the next unicorns.
Zorrik | Deepwaters
If you want a little hint, we are planning to come back to United States as a registered exchange here and further on, venture into TradFi.
Dave | Avalaunch
I think that holds up 😁 Appreciated.
Michael | Deepwaters
Zorrik makes a great point. The more retail traders understand how much they get screwed on other exchanges, the larger and more enthusiastic our community gets. As a trader, you should DEMAND transparency into how your trades and assets are managed.
Dave | Avalaunch
Absolutely. What would have been conspiratorial tinfoil hat talk became prescient as Luna unwound and FTX collapsed.
Here's one I always like this question and @Heylay3 is dying to know — I'd love to know the inspiration behind the name DeepWaters?
Zorrik | Deepwaters
The idea was born on Kauai, Hawaii. I am a die hard surfer and many of these concepts were going through my head as I was waiting for waves or was given a timeout by particularly lengthy hold down.
It makes sense… whales need deep waters to swim. The parent company name VatnForn is norse for "ancient waters".
Michael | Deepwaters
Also… ya know… become a whale on deepwaters, whales need deepwaters to swim (I hate myself).
Zorrik | Deepwaters
It also has a certain meaning for the core idea of the project: making the transition from trader clickthrough to public order book atomic (confidential)… Deepwaters hides what's under, you only see the waves above.
Random fact… did you guys know that the height of the wave is the same as the depth of the ocean floor it is breaking over? We gonna make some monster waves in the industry!
Dave | Avalaunch
Wow. Maybe the best answer to date on this question. Appreciated.
@Pilot9804 who is firm but fair candidly inquires — I see that Deepwaters platform is asking for kyc to start trading on Deepwaters. Why do you need kyc? Is it possible to use Deepwaters exchange without kyc?
Zorrik | Deepwaters
This is a very important question. Many people ask: why KYC. This is Sparta ehm crypto!
We aim to fix the core problem in trading dynamics. That problem is essentially … people, especially people running the exchange and creating the exchange. It may really surprise you, but we have started this project as a completely decentralized exchange.
Greg Barnes and I more or less reinvented many DeFi projects searching for the answer to the question: how do we protect our traders. We walked away dissatisfied with the maximalist approach. However, we are still looking at the emerging tech here. Speed, cost and confidentiality is paramount for a fair market place.
We then transitioned into a standard hybrid approach but the question remained unresolved: how do we remove ourselves out the equation. Eventually realization dawned that 1) Orderbook is the superior paradigm for a marketplace 2) Trusted Execution Environment is a superior technology at the moment for us.
Michael | Deepwaters
This is a really good question, and honestly, it's something we struggled with for a long time. Full transparency, it all comes down to compliance. We need to guarantee that the exchange itself, the assets held on it, and our users, will never (even unintentionally) break the law. We also need to assure that your assets are yours, and we have every mechanism possible in place to prevent identity theft or other fraud.
We will NEVER sell your information, use it for any other purpose than to remain fully compliant and protect your assets.
Dave | Avalaunch
Right. Given your roadmap, that would stand to reason.
Zorrik | Deepwaters
You can see how this leads to KYC naturally if our primary concern is trader protection. This allows for the broadest adoption ultimately and organic translation to application for tradfi markets in the future.
Dave | Avalaunch
Understood and on that note, the irreverent @ekinci_sualp asks — Can you tell us about the security Deepwaters uses to ensure the safety of user funds?
Zorrik | Deepwaters
As I said we are transitioning to best in class third party custodial solutions. The APIs are driven by disclosed code, the code is protected by Deepwaters tech from ourselves. Special legal structures are now being discussed to resolve special cases such company not being viable or infrastructure failing.
Basically, not your control — not your crypto
I personally experienced the dangers of rehypothecation. I had 1mil locked up with MFGlobal (look it up, its a fascinating story with a company which had an amazingly relevant name).
Look we believe in combining the existing government protection (which by the way saved users of FTX.US) with the best in blockchain and TEE tech to go above and beyond what SEC demands of market places
Dave | Avalaunch
Madeleine communities are constantly clamoring to be heard. Some of it is constructive, some of it is not feasible and there's always a pressing need for right now. How do you separate the signal to noise?
Madeleine | Deepwaters
I'm very lucky I have an incredible team of moderators and admins that assist me on a day to day basis to help sort out the noise but that being said I am very guilty of spending A LOT of time replying to everyone!
Dave | Avalaunch
Okay. I know why you're being poached. You've got that thing in you that says "no message left behind." Kudos.
Madeleine | Deepwaters
Hahaha. Correct. I get messages telling me to go to bed from the team when they see me online at ridiculous hours.
Dave | Avalaunch
That's a feature, not a bug. Here's a question from @Sunsun77 — What were some of the most surprising results from the public testnet launch, and how did they inform the development of Deepwaters?
Zorrik | Deepwaters
Biggest surprise? Traders got it!
Gave us confidence to stick to the script marketing and development wise. Even bigger surprise, someone actually created a custom github project for our API interface. To be frank we did not expect to be understood so quickly, with that support, we just charged straight ahead.
Michael | Deepwaters
Retail traders are a lot smarter than almost everyone gives them credit for.
Dave | Avalaunch
Having been in crypto for awhile, I would say that wasn't always true but what has held up in my observation, is their ability to learn and adapt is Mach V.
Then again, maybe I was the stupid retail trader when I started and I just recruited everyone else.
Michales Madelein and Zorrik you all have been great here today. Do you have any closing thoughts you'd like to share with the community?
Michael | Deepwaters
We're getting a lot more questions for the community, and we won't have the opportunity to answer all of them here so PLEASE come to our discord or telegram so we can answer!
Dave | Avalaunch
For sure. Feel free to post some links to your socials.
Michael | Deepwaters
https://discord.com/invite/Deepwaters
https://t.me/deepwaters_dex
https://twitter.com/deepwatersxyz
We can't say enough thanks to all the support our community has provided, and continues to provide. we hope we can live up to your extremely lofty expectations! Please help us to find and list the best tokens, and don't let us miss your questions!
And as a quick cap off, here's a message from our CTO Greg in response to the question abt things we've learned from our community in testnet:
We've learned that people really like to trade from their phones (even on the advanced view w/ a chart, and we plan to make the mobile experience a priority.
Dave | Avalaunch
For sure. Thank you very much for your time today.