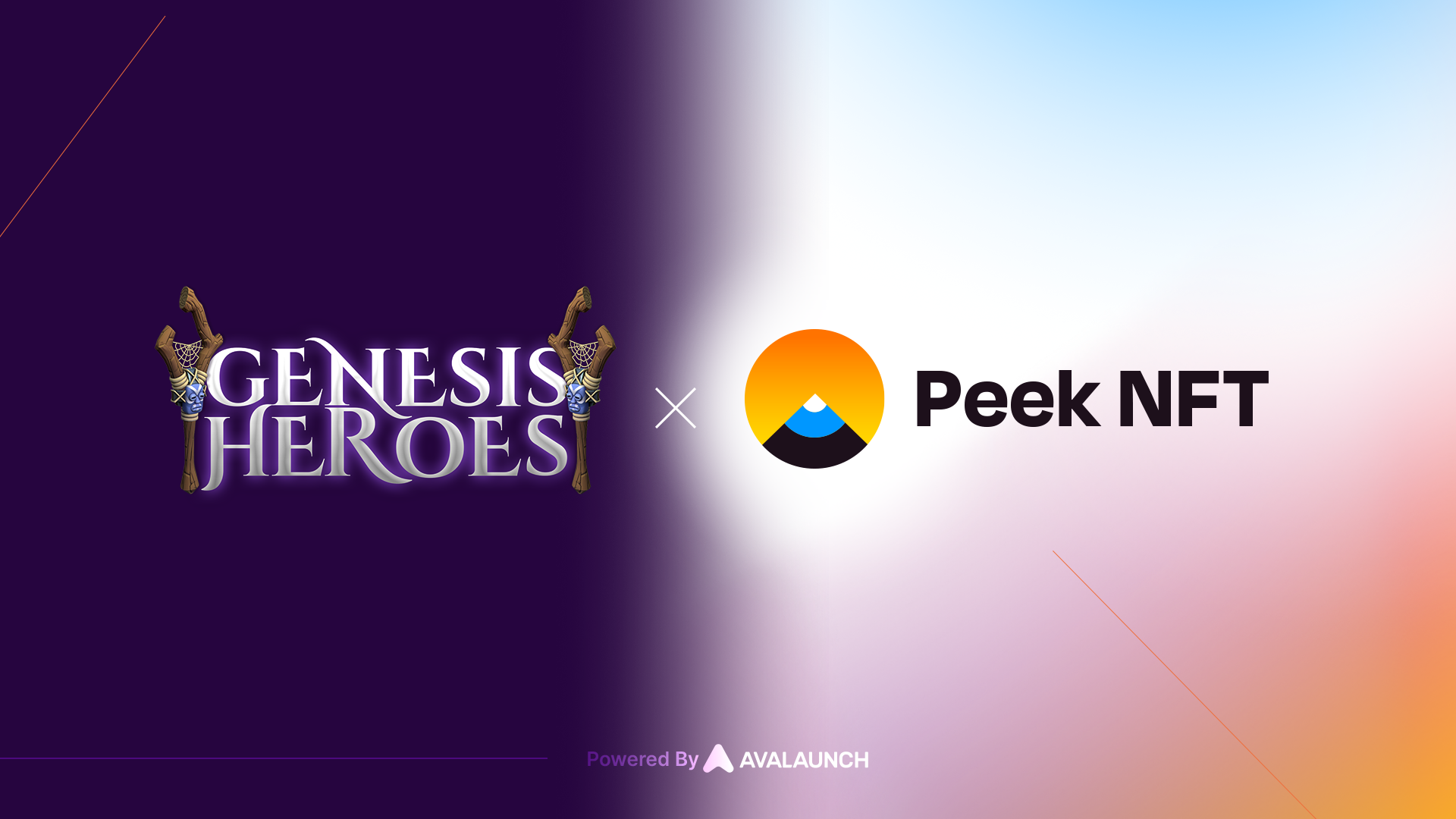 In the ever-expanding universe of Non-Fungible Tokens (NFTs), Avalaunch is excited to present a new marketplace that is crafted with an emphasis on utility NFTs from highly curated collections. Today, we invite you to Peek NFT, a platform devoted to fostering a community of passionate Avalanche NFT explorers and enthusiasts.
The Debut Sale: The Battle for Giostone Genesis Hero Collection
The inaugural Peek NFT sale features Battle for Giostone (BFG), an ever-evolving MOBA game coming off of these recent milestones:
Transitioned from a closed-alpha version to a community beta.

Garnered a player base of 5,000.

Attracted 30,000+ viewers for their esports event, The Primal Giostone League.

Follow-on investment from Blizzard.
The Plutus NFTs: Enhancing Gameplay and Participation
The sale unveils the Plutus NFTs, a limited collection, where each Genesis Hero provides:
Unique in-game bonuses

A share in BFG game revenue

Two types of Heroes, Forger and Hoarder, offering distinct benefits:

Forger Heroes reduce your cost for forging new Heroes by 10% initially, with a 1% reduction for each additional Forger Hero, up to a 20% maximum

Hoarder Heroes boost your earnings within the BFG ecosystem by 10%, with a 1% increase for each additional Hoarder Hero, up to a maximum of 20%

Unique skin specific to its class, tradable on the secondary marketplace

Hero backgrounds will represent the in-game skin, with 10 different variations – 4 Common, 3 Rare, 2 Epic, and one Legendary.

7,000 total Heroes will be minted.
The Sale Structure and Value of BFG Staking
The sale is structured to prioritize Gold Stakers:
On May 22nd, 3:00 PM UTC the general sale for the Heroes will begin: 

Period: 4 days

Mintable Heroes: 500

Price: 10 AVAX for 50% of the NFTs

After these are the sold, the final 50% can be purchased for 11 AVAX

Gold Staker Sale Begins on May 26th, 3:00 PM UTC

Period: 3 days

Mintable Heroes: 500

Gold Stakers can receive a Hero at a price of 9 AVAX 
Total Heroes For Sale on Peek NFT: 1000
Powerful Utility
Genesis Heroes reward stakers with BFG tokens.

10,000,000 BFG tokens are allocated for Genesis staking rewards.

Stakers can enjoy boosted APY during a promotional period following the sale.

Following the promotional period, BFG's Genesis Hero NFT stakers will receive a revenue share, distributed quarterly.
Special Modifiers
The Plutus Collection of Genesis Heroes possesses the powers of the Giostone, allowing access to a Special Modifier. Owners gain:
Access to a Special Modifier for every 10 Genesis Heroes in your account, with a maximum usage limit of three at a time.

Special Modifiers can include: boosted APY, monthly skin drops, energy refresh (2 uses per week), lower forging times, guaranteed abilities, and increased access to Battle Pass levels. 
Conclusion
Avalaunch's Peek NFT hopes to usher in a new era of utility-focused NFTs, with Battle for Giostone paving the way. The Plutus Collection adds a unique twist to the gaming experience, offering not just in-game advantages but also revenue participation. The innovative structure of the sale and the value of BFG staking with your Hero presents an enticing opportunity for early adopters. The Special Modifiers further enhance the benefits, adding a layer of strategic depth to the game and the NFT ownership experience.
Welcome to Avalaunch. Welcome to the Plutus Collection.