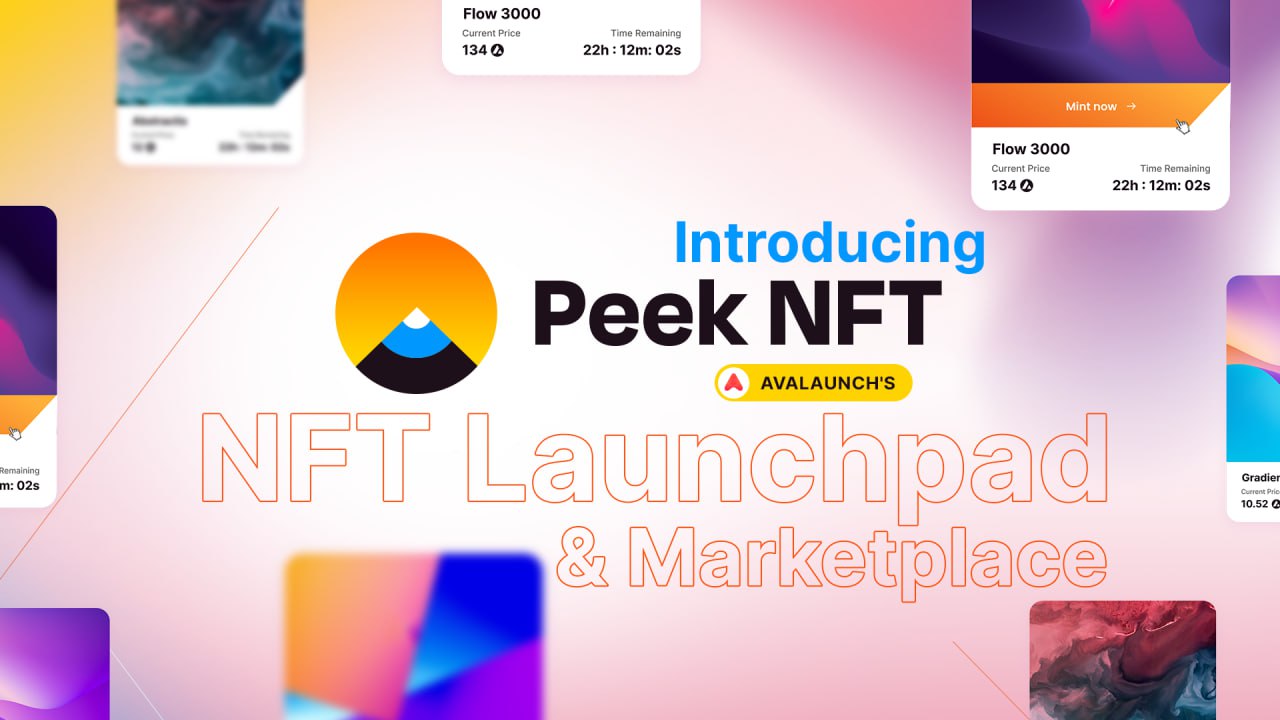 The world of Non-Fungible Tokens (NFTs) exploded in recent years, with new marketplaces and projects popping up every day. However, not all NFTs are created equal, and many lack real utility beyond their speculative value. That's why Avalaunch is excited to announce the creation of a new NFT marketplace, with a focus on utility NFTs from highly curated collections.
Introducing Peek NFT 
Avalaunch's Peek NFT is designed to be a product that encapsulates a state-of-the-art NFT marketplace with a focus on NFTs that have demonstrable utility. With a clear emphasis on attributes and less on speculation, Peek NFT is poised to redefine the paradigm of NFT trading while offering comprehensive support for initiatives developed on the Avalanche blockchain. 
The Peek NFT marketplace will contribute to Avalanche by hosting NFT collections that have a firm place within larger ecosystems. These NFTs are not just collectibles, but specifically designed to add value to both users and the protocol itself. Offering NFTs that can accrue value in lockstep with a protocol's growth is the aim as non-fungible assets evolve from digital arts to financial instruments and ultimately, RWAs. Let us delve into Peek NFT and how it can emerge as a home for Avalanche-based projects.
Embarking on a Journey with Peek NFT
As Avalaunch persists in its efforts to become more than a launchpad, the team has chosen to foster an environment of collaborative growth within the greater community. Peek NFT does not intend to offer "everything under the sun" but strongly prefers to be notably selective in its offerings. 
Highly curated across verticals with an emphasis on NFTs that offer meaningful utility.

Avalanche ecosystem based projects.  

Anyone is allowed to participate in our marketplace but: 

Some sales may have rounds that allow access to Gold Stakers participants first.
The goal is to make the marketplace accessible to as many people as possible while also ensuring that the sales are fair and equitable.
Marketplace Exploration:

Delve into the growing selection of Avalanche-based NFTs and uncover hidden gems.

NFT Trading:

Avalanche-based NFTs for sale to diversify and grow collections.

Community Engagement:

Connect with other Avalanche NFT enthusiasts, creators, and collectors to exchange insights, collaborate, and evolve together.

Participate:

Avalaunch will host curated NFT sales where users can gain access to the unique offerings from newly launched and existing projects.
Nurturing Avalanche
Peek NFT transcends the conventional definition of an NFT marketplace. It is envisioned as a robust resource; enabling Avalanche-based projects to launch their sales, expand their audience, and realize their objectives. The team is committed to fostering a community that reciprocates, empowers, and benefits its users as well as creators.
Peek NFT, with its provision of collaborative opportunities is uniquely positioned to catalyze new NFT launches. The Avalaunch platform's robust community, comprehensive tools, and focus on collaboration can render it an invaluable asset for projects launching or expanding into Avalanche.
Peek NFT is committed to growing a community of passionate Avalanche NFT explorers and enthusiasts alike. By providing a dedicated platform for such participants, it can serve as a rallying point and act as a hub for the community. This new market intends to fuel the genesis of innovative ideas, collaborations, and initiatives that can propel the Avalanche ecosystem forward.
A Sneak Peek
The first sale on Peek NFT will feature a project that had a significant presence at the Avalanche Summit and is receiving a follow-on investment from Blizzard. Given Avalaunch's history of hosting NFT sales, the team believes it is the perfect fit for an inaugural offering. That said, Peek NFT will also cater to other verticals, from Avalanche gaming, DeFi and potentially, to the wider world of art and culture. Stay tuned for the official announcement.
Conclusion
As Avalaunch gears up for the launch of Peek NFT, the team is actively exploring co-marketing opportunities and strategies to ensure a pipeline of offerings. By combining the strengths of the existing Avalanche Launchpad with a curated NFT platform, Avalaunch aims to contribute to a thriving ecosystem for Avalanche-based projects, creators, and collectors.